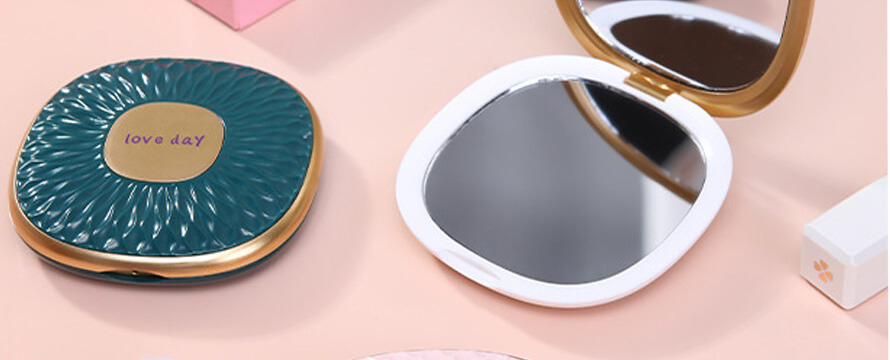 What is the compact mirror?
Its definition compact mirror is also called a pocket mirror or travel mirror, a type of mirror. generally, its size is less than 10cm, so it is easy to put into a clothes pocket or lady bag, Can be used outside anytime. To prevent scratching the skin when using, There is an outer frame around the edge of the mirror.
Frame materials generally include 4 types:
Plastic Frame: Most commonly used frame, the main raw plastic is PP and ABS, the price is cheap and the frame quality is high, the surface can do plating, UV, spray silver, etc.. color can do any Pantone color number

compact mirror plastic frame(1-1)
Metal frame: main plated iron, cropper, special plated iron, price is more cheap, quality is very good, feel heavy, it seems high-grade product.
Aluminum frame: thin aluminum plate stamping, then after more than 20 processes, the finished product is made, raw materials price is cheap, because customized colors need special technical handling, and easily cause pollution, Such products are rarely produced now, or unit price becomes expensive If handled with environmentally friendly materials.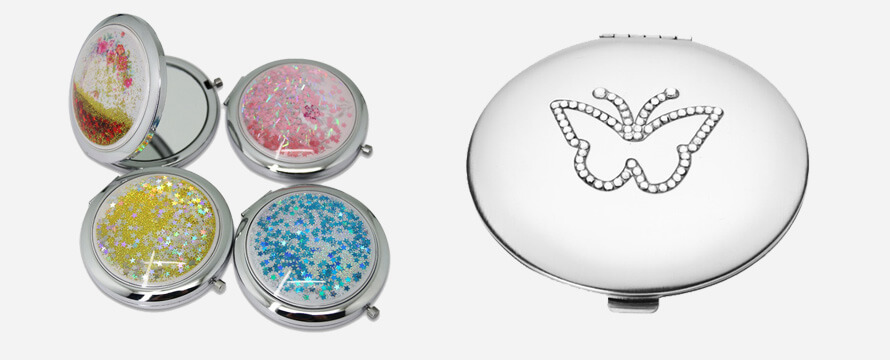 left: metal      Right: Aluminum
Pu frame: It is framed with artificial leather and wraps the lenses, because of the limitations of sutures, not any shape can be made. Mirror lens materials generally include 2 types
Glass: it is the most commonly used for compact mirrors, because the price is cheap, and Clear imaging, it also can provide 2X, 3X, 5X,10X, and 30X magnifying. Another is the plastic lens, which is easy to destroy, but its cost is higher because its surface needs plated silver, which will let many imperfections of products happen. it can do 2X, 3X, and 5X.If the magnification is too large, it is easy to deform the image.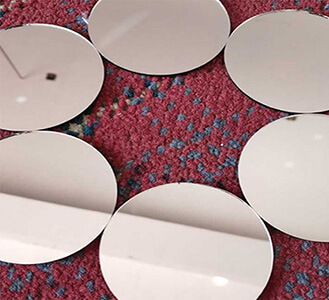 When you understand what a compact mirror is, then do you know what are the benefits of customizing a personalized compact mirror?
Many customers buy our compact mirror as a promotional gift, The luxury brand LV once ordered their brand personalised compact mirror to give away to customers who purchased a certain amount of money as gift premiums. Why do people like to use it as a promotional item?
Cheap price: The unit price of many compact mirrors is less than US$1, and the minimum order quantity is about 5000 pieces, which saves a lot of cost for promotional items.
The product is beautiful and has many styles: compact mirror has many styles, which can be completely customized according to your requirements, such as round, square, and rhombus. The surface can be plated with gold or silver to make it look very high-grade, we can open mold that is according to your featured product, and make your unique mirror.
A brand logo can be printed: The surface of the compact mirror generally leaves a certain space for printing the logo for customers. The most commonly used and economical is silk screen printing, which can be printed in up to 3 colors, color heat transfer printing, or laser engraving. Let your brand be remembered by customers for a long time.
Practicality: Although it is a cheap product, maybe your customers use it all the time because when many female customers go out and need to touch up their makeup, they can take it out and use it. Many promotional items may be beautiful but not practical, Put them on the shelf and forget it, some promotional items can only be used at home, and only our small mirror can be used anytime and anywhere.
Outer packaging that can be changed at any time: We can design and make outer packaging for each product according to customer requirements, mainly depending on where the customer wants to sell, some want to hang in the supermarket for sale, and we can design hanging open pockets, some metal For the high-end compact mirror, we can pack it in velvet bags, and the bags can also be printed with logos to make it look more precious. If you are making wedding souvenirs for customers, you can also design suitable packaging for you.
Conclusion
As a small product, the personalized compact mirror can make female consumers fondle admiringly. Women are the main force of social consumption, and their consumption ability is obvious to all. A qualified promotional item can increase the sales volume of your products and deepen the brand image in People's hearts, its use field is very bright, it can be cosmetics, women's clothing, women's bags, women's shoes, and even shampoo, etc. can use our products.