The United States, as a major consumer of makeup brushes, imports many of its brushes from China. Due to the high quality and affordable price of Chinese makeup brushes, many American cosmetics brands customize their own branded brushes from China, which allows brand owners to maximize their profits. According to statistics, in 2022, the United States imported approximately $330 million worth of makeup brushes from various countries around the world. Although makeup brushes are considered low-end daily products, the United States also has manufacturers in this industry. Here are 9 outstanding makeup brush manufacturers in the United States.
https://brushesbykaren.com/
https://taikibeauty.com/
https://fmbrush.com/
https://sandersonmacleod.com/
https://www.brush.com/
https://www.qosmedix.com/
https://brandonfemme.com/
https://www.zembrush.com/
https://tekabrushonline.com/


It is a privately-owned brand manufacturer/wholesaler headquartered in Minneola, New York, established in 1988. The company has approximately 20 employees and generates revenue ranging from $1 million to $5 million. They specialize in producing makeup brushes and a range of natural cosmetics that include mineral-based ingredients as well as certified organic ingredients. They are committed to producing gluten-free and vegetarian products and maintain very low inventory levels and lead times.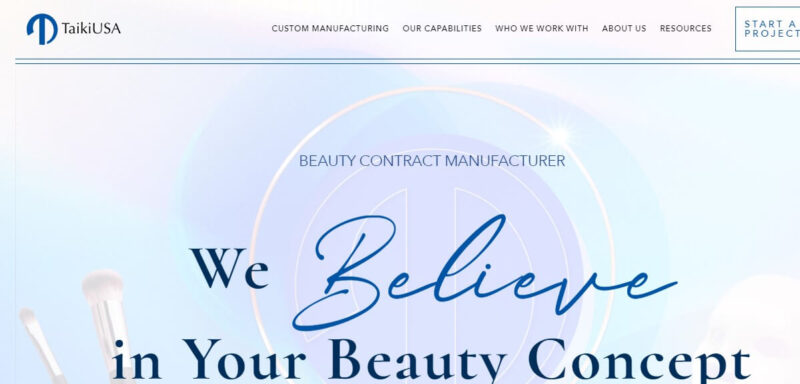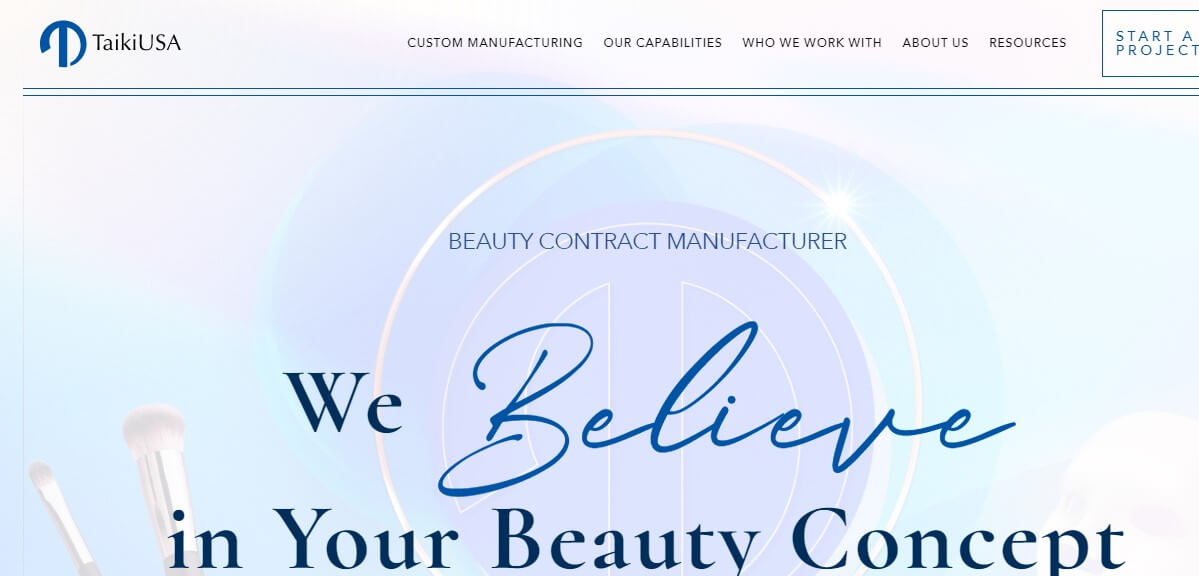 Taiki is a family workshop that was established in Japan in 1930, initially focusing on the sponge business. In 1987, they established Taiki USA subsidiary to expand their cosmetics brand business in the United States. In 1990, they started manufacturing facial mask sheets and wet wipes. In 2010, Taiki developed Tafre fiber, which is an exceptional synthetic bristle material. Their current U.S. factory is located in Montville, New Jersey, and specializes in producing and supplying makeup brushes, cosmetic sponges, facial masks, and more. They help American cosmetics brands swiftly establish their product lines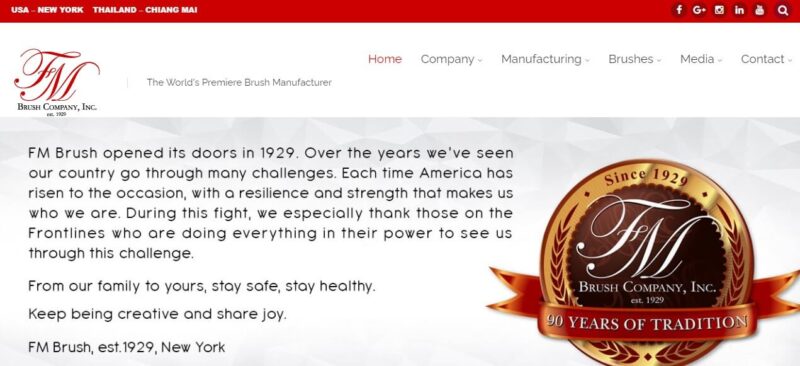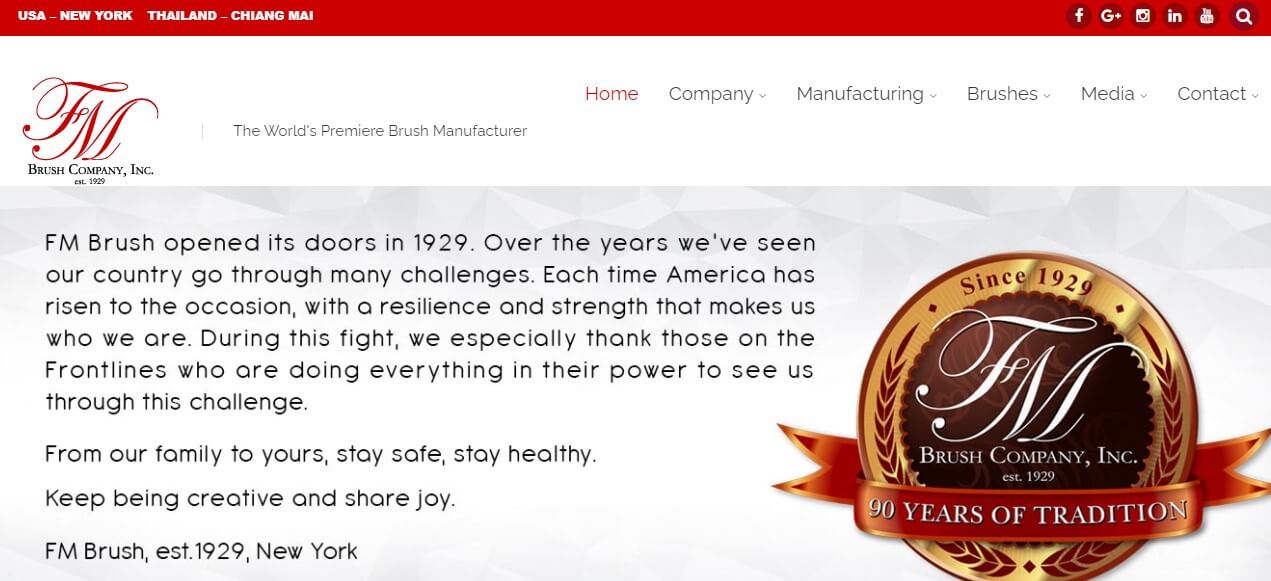 Established in 1929, FM Brush primarily manufactures paintbrushes and makeup brushes, and also offers custom brush solutions. Being a family-owned business, are now in their fourth generation. They handle everything from design to production and packaging, aiming to create superior quality handmade brushes that exceed all expectations. With 19 patented designs, they have a product range of over 17,000 available styles. FM Brush has factories in both the United States and Thailand, catering to the intense competition and demands for brushes in the two fastest-growing economic sectors in the world, ensuring quality, quantity, delivery, and competitive pricing. Their headquarters is currently located in New York, where they have their own brand and also create new product lines and brand solutions by customizing brushes for other brands.


In 1958, Specialty Brush acquired Better Brush Inc. and renamed it Sanderson-MacLeod. Initially producing a variety of different brushes, they later ventured into the beauty industry and invented the dual-twist wire mascara brush to expedite the application of mascara on eyelashes. They collaborated with numerous Hollywood companies, and for 20 years, they were the sole factory in the United States manufacturing mascara brushes. The fully automated production of brushes satisfied people's demands for the product. Currently, in addition to the beauty industry, they have also expanded into other sectors, and conduct research and invent brushes suitable for various other industries.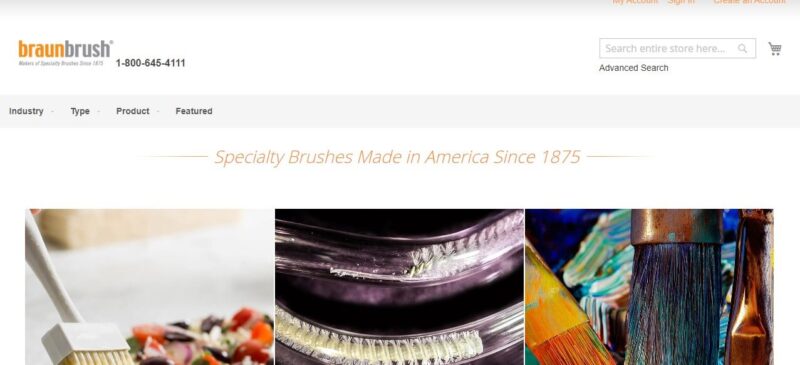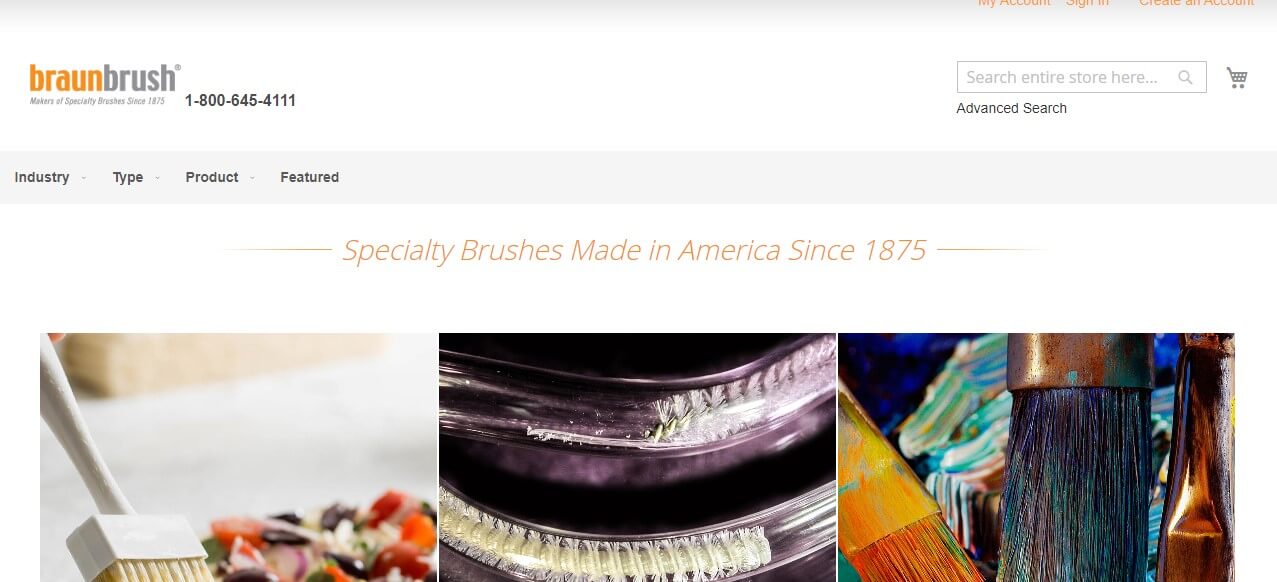 Braun Brush is a family-owned and operated business started by my great-grandfather in 1875. We operate in three divisions: Braun Brush, makers of industrial and technical brushes for all industries, found at www.brush.com. Braun Automotive, makers of ultra high-end brushes for automotive detailing found at www.BraunAutomotive.brush.com, and Brush Tile, creators of unique architectural surfaces and features using brush fibers, found at www.brushtile.com
Their brush production encompasses a wide range of products, from everyday use to automotive applications, and even extends to the medical field. Makeup brushes are also one of their manufacturing projects. It is evident that they are a highly professional American makeup brush manufacturer.
6.Qosmedix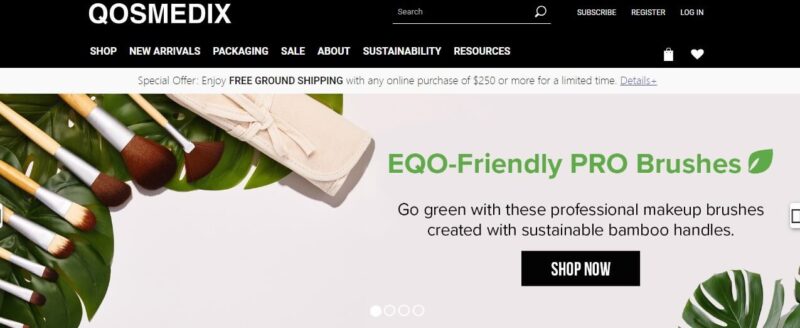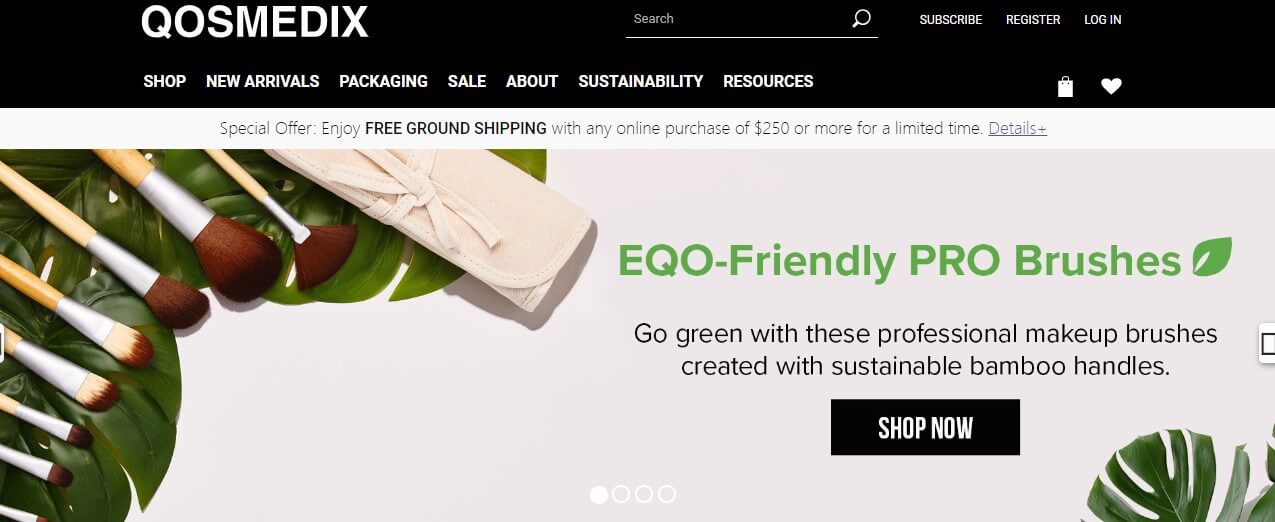 Established in 1987, with headquarters in New York, they are a personal care product manufacturer. In addition to makeup brushes, they also produce and distribute items such as mascara wands, lipstick applicators, and more.
In 1987, Stuart Herskovitz was walking by the cosmetic counters in a major department store when he noticed consumers trying on lipstick and placing them back into the display units.  He then realized there was a need for disposables that would reduce the risks of cross-contamination… and thought… "If doctors and hospitals use medical disposables to reduce these risks, why not apply the same principle to the beauty industry?" And so Qosmedix was born.
Today, Qosmedix is a leading supplier of high quality merchandise for the cosmetic, spa, and salon industries. Qosmedix is built on the foundation of providing products of superior value for all sampling, packaging, private label, and retail needs. Our items are designed to meet today's health concerns by promoting cleanliness and hygiene. We maintain an extensive inventory of over a thousand different stock items within our 95,000-square-foot climate-controlled facility.


Established in 1979, the company is now headquartered in California. Their products belong to the beauty industry, catering to the preferences of women. This includes makeup mirrors, makeup brushes, and more. The company generates an annual sales revenue of approximately $1,600,000. They have their own brand called Brandon Femme, and while they produce a portion of their makeup brushes in-house, they also import from other sources. This is likely due to the higher production costs in the United States, and importing from other regions allows them to generate more profit and enhance their market competitiveness. They have now shifted their focus to become a prominent producer of large mirrors. This might be a unique approach in the U.S. market, where professional mirror brands are relatively less common, and mirrors are usually sold as accessories in cosmetic stores. Their ability to survive in the U.S. market for over 40 years is a testament to their strong capabilities.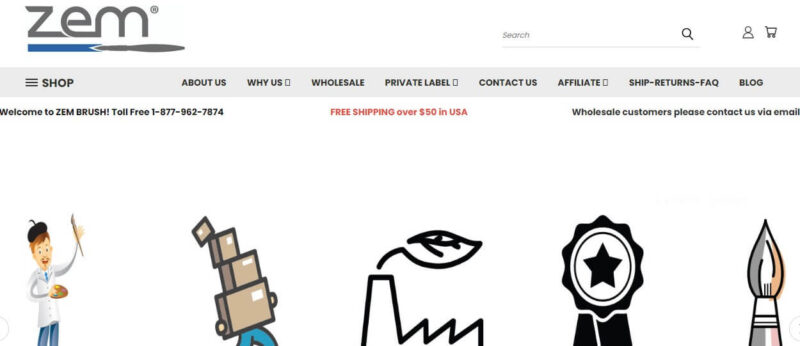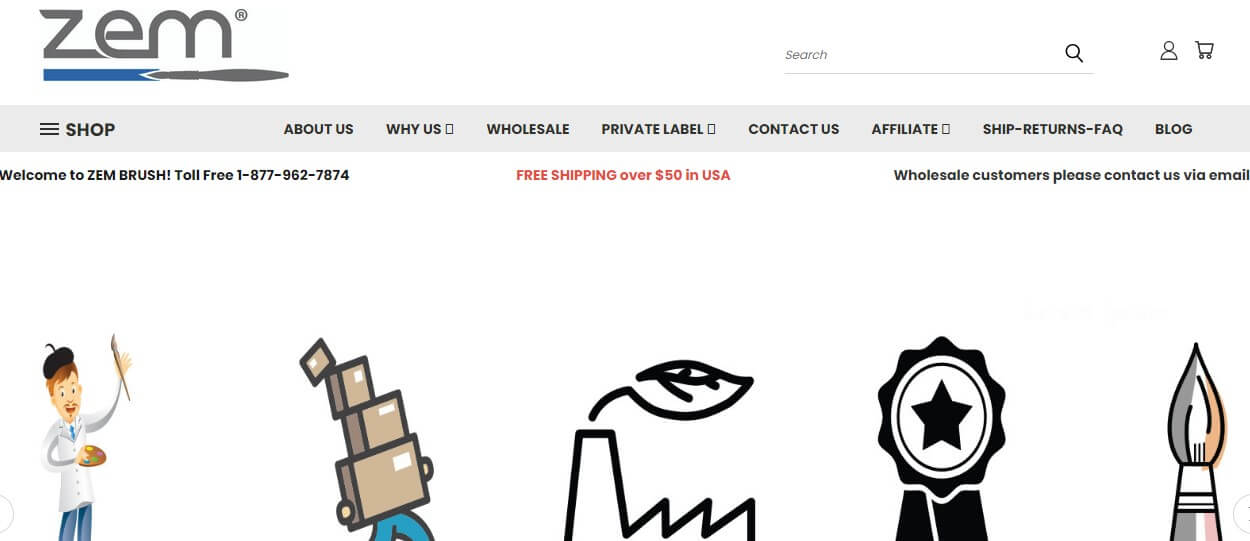 Located in Ohio, United States, we have a high-quality production capacity utilizing modern American equipment. With our own brand, we offer comprehensive private label services, including production, packaging, labeling, and barcode integration for your new brush line. Currently, we have over 50 private label clients ranging from large multinational companies to small family businesses. With 40 years of experience in the brush industry, we are one of the largest brush suppliers in the United States, providing a vast inventory and fast service. As a family-owned business, we have a rich history of 53 years.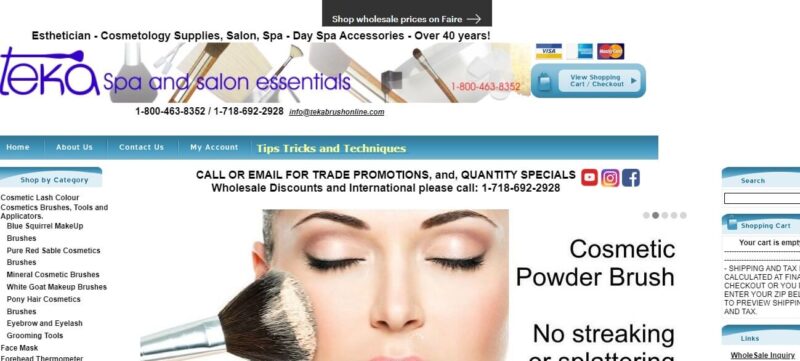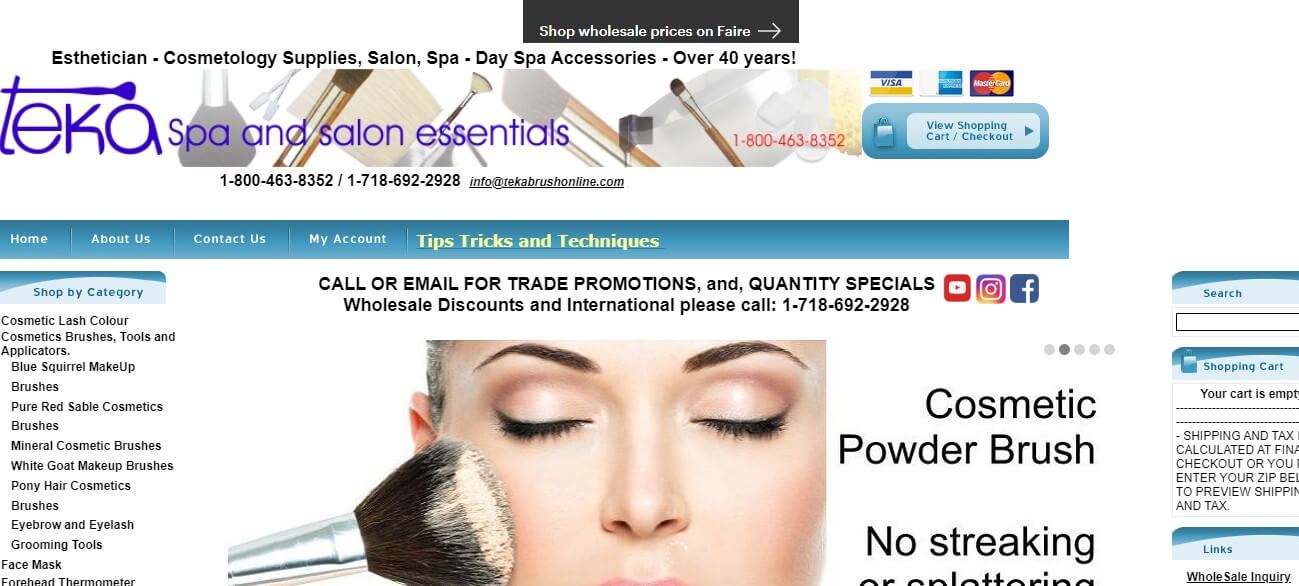 Founded in 1969, Teka is a makeup brush manufacturer based in New York, USA. For over 40 years, Teka has been producing brushes for professional beauty, cosmetics, skincare, and related industries such as spas, beauticians, salons, and makeup artists. Additionally, we offer essential supplies for spas and salons, along with items like bathrobes, wraps, sponges, spatulas, and brushes that we manufacture. Apart from manufacturing makeup brushes, we also provide a comprehensive range of services from packaging to printing. Our own brand brushes are manufactured in Brooklyn, New York, and makeup brushes are their flagship product.