When it comes to makeup brushes, James Charles is a highly regarded name in the beauty industry. He has collaborated with several cosmetics brands to develop makeup tools that are very popular. For example, his eyeshadow palette collaboration with Morphe has been incredibly successful. Today, we will primarily focus on the perspective of makeup brush manufacturers and discuss whether James Charles' makeup brush set is worth considering.
First, let's introduce James Charles. He is one of the most influential YouTubers in the beauty field in recent years, with 23.9 million subscribers on YouTube and 21.5 million followers on Instagram. In addition, he has collaborated with some brands to launch his own makeup products. However, he has recently faced accusations of inappropriate behavior, leading to some boycotts and a decrease in his followers. Nevertheless, this does not diminish the fact that he is still one of the most successful YouTubers. In this article, we will set aside all other factors and solely examine whether James Charles brush set is worth purchasing.
This time, take 13pcs James Charles brush set as an example to analyze, first look at the picture: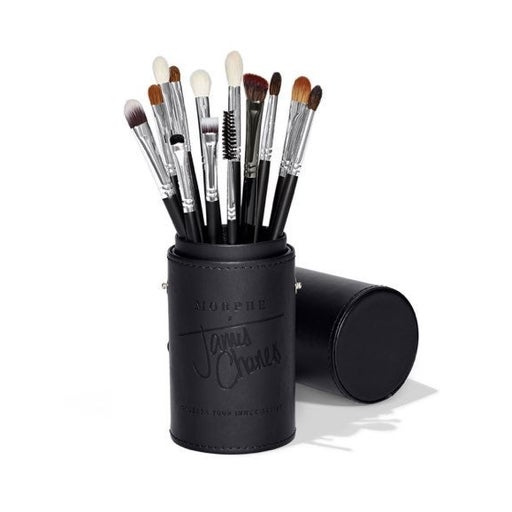 This is also a joint model with Morphe, with a storage bucket, the price is $56/set
Introduce the function of each makeup brush according to the number I marked:
ro Firm Blending Crease Brush (Natural) – This popular blender has a round brush head, perfect for seamless transitions.
E62 Angled Nose Contouring Brush (Synthetic) – if you live for a good sis with a snip nose, this fluffy angled brush is perfect for lying down and blending.
M433 Pro Firm Blending Fluff Brush (Natural) – finally, crease blending just got easier with this soft yet firm brush.
M456 Mini Firm Blending Brush (Natural) – this little brush is ideal for detailed blending work and for babies who have smaller eyes.
M506 Tapered Mini Blender Brush (Natural) – this mighty little tapered brush is ideal for controlled blending in the outer V.
M224 Oval Camouflage Brush (Synthetic) – For everything from full concealing power to cutting the crease, this brush is packed with serious tricks.
M166 Oval Shadow Brush (Synthetic) – This perfectly shaped oval brush tackles inner and outer color placement and packs pigment after cutting a crease.
M124 Firm Shadow Brush (Natural & Synthetic) – (natural & synthetic) : This firm, natural brush is killer when putting highlighter on the brow bone or packing color for a killer sunset.
M152 Medium Chisel Fluff Brush (Natural) – this fluffy packing brush is a rock star blending shadow on the lower lash line.
M508 Smudger Brush (Natural) – Some lines are worth waiting for, like the smoky lines you'll create with this natural, smudger brush.
M410 Flat Concealer Brush (Synthetic) – This high-quality, straight-edged concealer brush is amazing for cleaning up brows with concealer.
M158 Angle Liner/Spoolie Brush (Synthetic) – Meet the perfect power couple for your fiercest eyes and most explosive brows.
M250-0 Detail Liner Brush (Synthetic) – If you love a good gel liner, this synthetic brush gives you total control.
This set of 13 eyeshadow brushes focuses on practicality. The type of bristles used depends on which type of bristle is more advantageous for makeup application. In addition to traditional synthetic bristles, natural bristles are also used, and some eyeshadow brushes clearly have an advantage with natural bristles compared to synthetic ones. For example, larger eyeshadow brushes are often made with horsehair. The reason for using horsehair is that the eyelid area lacks skeletal support, and it is not easy to apply eyeshadow evenly with soft synthetic bristles. Horsehair, being firmer and more resilient, is more suitable for applying eyeshadow in such areas.
The size 13 brush in this James Charles brush set can also be used as a lip brush. The bristle head is smaller, making it suitable for filling in areas where lipstick or lip gloss may have been missed. However, this brush is likely not coated, which can cause the bristles to splay and make application more difficult. It would be better if the bristles were coated.
In terms of functionality and configuration, I believe this brush set is problem-free and can be considered perfect. It includes all the brushes one would need, and even professional makeup artists would find it sufficient.
As for the price, everyone's affordability differs, so I won't delve into it too much here.