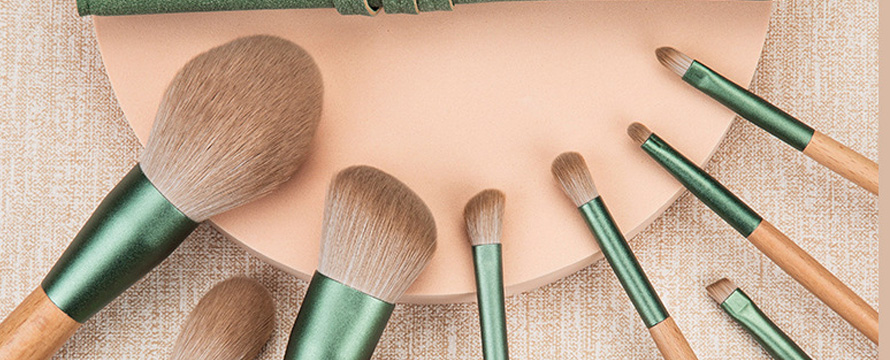 Modern women are an important force in this society, Women's consumption is more difficult to underestimate, They are independent and love beauty, also decide on a family's purchasing plan. From 3 years old to eighty years old, Beauty is the goal of every woman's life, So the ways of make women beautiful and maintain good skin condition, always let women implement at any cost, Cosmetics are born from application, How to make it more appropriate to smear on our face? To solve this problem, makeup brushes were born.
Makeup brush is a tool with bristles, used for the application of makeup or face painting. The bristles may be made out of natural or synthetic materials, while the handle is usually made out of plastic or wood. When cosmetics are applied using the appropriate brush, they blend better onto the skin.Custom makeup brushes are by manufacturer who generate personlized products according to customer's requirements. Manufacturing customized makeup brushes  can be in accordance with the purpose of your brand, project plan, budget, and preferences of customers in your market.For example color of product, shapes of head bristle, custom company logo etc. Differentiate your makeup brushes from other sellers.
The classification of cosmetic brushes can be based on the area of the face, material, application field。
1. According to the area of the face, we can simply divide into the following 3 types
2.According to different materials can be divided into:
Synthetic bristle brush

Natural bristle brush

Wood handle brush

Plastic handle brush
3.According to the application, it can be divided into:
For face makeup
Foundation brush– long, flat bristles and tapered tip
Powder brush– fluffy bristles; soft, full and rounded
Fan brush– It is used dust off any fall outs and also to apply highlighter on the highest points of the face. A large fan brush is usually made out of natural fibers and is fanned out 180 degrees that covers a large perimeter of the face.
Blush brush– fine bristles and rounded head
Bronzer brush– It is made with natural bristles and is fluffy in shape. It applies powder bronzer beautifully and distributes the product evenly on the skin. One can also use this brush to apply face powders if one finds a normal powder brush too big to use.
Concealer brush– soft and flat with a pointed tip and a wide base

Kabuki brush

– There are 2 types : Flat Top and Angled. Both types are densely packed. It best applies liquid foundations and it provides full coverage.
Duo-fiber multipurpose brush– flat, circular and feathery head
Mineral powder brush– thick and rounded
Face contour brush– slanted and rounded for cheekbones
Face sponge– varied shape, sponge texture (use wet or dry)
Highlighter brush– This brush is usually made out of natural bristles and is considerably small in size. The tapered but elongated bristles makes it perfect to apply powder highlighter on the highest points of the face. The tapered bristles while applying makes it evenly distributed on the skin.
Blending brush– Blending brushes are made using natural bristles and is fluffy in appearance. It is used to blend out any harsh edges for a seamless effect. It works best with powder products because of the natural fibers.
Eyes
Eyeshadow brushes:
Flat shader eye brush – This brush can be made either with synthetic or natural fibers and is flat in shape. It is used to pack on powder and cream eyeshadows evenly on the lid area.
Angled shader brush – This brush is made out of natural fibers and it has an angle to it. It is used to apply darker shades on the outer corner for a more detailed look.
Fluffy blending brush – Usually blending brushes are made using natural bristles and is fluffy in appearance. It is used to blend out any harsh edges for a seamless effect. It works best with powder products because of the natural fibers.
Crease brush – This brush can be made either with natural or synthetic bristles and has a tapered cut to it. It is much smaller than the previous blending brush and it beautifully blends out the crease color without moving it too much.
Pencil brush – This brush is a much smaller version of the previous blending brush and it is usually made with natural fibers. The pencil brush can be used to add colors to smaller areas and also to blend them in without spreading the pigments too much. One can also add brow bone and inner corner highlights it works well with powders.
Pointed eyeliner brush – It is made out of synthetic fibers and has a tapered end to it with barely any bristles which helps with the sharpest and most perfect winged eyeliner.
Smudger brush – This brush is made out of natural bristles for even application and is best used with powders and creams.
Mascara wand – usually comes with the mascara, but disposable mascara brushes can also be used, usually when mascara is being applied on multiple different people.
Eyebrow brush – long, thin with tougher bristles
Lash and brow comb – Keep the brow hairs in place using the brow comb and the lash comb helps remove mascara clumping together on the lashes to get rid of the spidery lashes.
Duo brow brush – This is a multitasking brush as you can line your upper lash line using the angled end and also fill in your eyebrows. This brush is usually made using synthetic bristles. It could be used with powders, liquids and creams. The spoolie end of this brush helps with blending in the brow product to make it look as natural as possible.
Lips
1.Lip liner brush – This brush is little bigger than the fine liner brush and is used to get a crisp outline on the lips.
2.Lip brush – This brush is used to fill in the lips using the lip color of one's choice and it provides an even application.
3.Lip gloss applicator– Usually comes with the lip gloss and is normally doe-shaped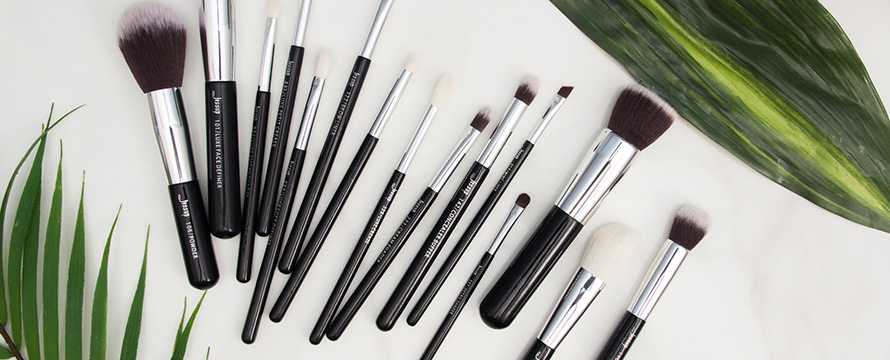 How to Attract Female Customers With Custom Makeup Brushes
Bundling sales: Bundle makeup brushes with your featured products. For example, a cosmetic set bundled a set of personalised makeup , Let some customers who originally wanted to buy a single product,to get this set of makeup brushes, might buy a set product. please appropriately reduce the price of makeup brushes, Makes it slightly less than the price of product of the same style and quality on the market. The main profit comes from the main product.
Giveaway when order amount fit with standard:When a customer spends more than one price in your store, You can send a cutom company's logo makeup brush set for free, also can allow customer become VIP member, Recharge a certain amount at one time, get a set of makeup brushes. Many luxury brands also do this, such as LV..
Beauty store: Now there are many small shops that provide facial spa services, meanwhile, they also sell and promote some of their facial mask cream or cosmetics to their customers.When you promote mask balm,why don't you match mask brush that is suitable for your mask balm to customers? A mask brush is very cheap, but You bring convenience to customers,and make a good impression on customers, Isn't this just an ad with good effect and low cost.Promoting cosmetics provide customers with a set of makeup brushes suitable for your products, a good set of tools allows customers to use your product quickly and easily, This saves time and is valuable for customers. Other small shops that serve beautiful women also can do the same marketing.
Encourage women as promotional gifts: We have received such a project, The client is a company that operates medical equipment, they organize a caring event for women with breast cancer who are surviving more than 5 years by using their medical device.They custom makeup brushes for this group of women in the company's name, encourage them even if heath is threatended by disease, still draw beautiful makeup for life every day.Later feedback said that the women who attended their events liked the gift very much.
Brand of cosmetics: if you are a new brand cosmetics, That can sell your brand makeup brush sets with other products together. It works perfectly with your staple makeup. Some very popular brands, such as SIGMA, BHCOSMETICS, ELF also sell it on accessories category.How to Attract Female Customers With Custom Makeup Brushes
Conclusion
Variety of makeup brushes and widespread use among women, It is an essential makeup tool. Customization will give us a lot of play space, as long as the design is novel, it will be a unique product with your brand, It can not only disseminate the brand, attract female customers, but also increase the sales of the feature products. Cheap price and personlized products also can be as premiums gift, rapidly increase brand awareness and female customers's favorable impression of the product.