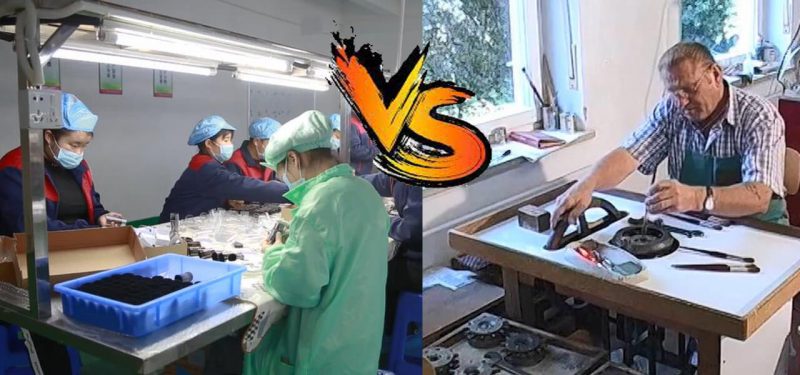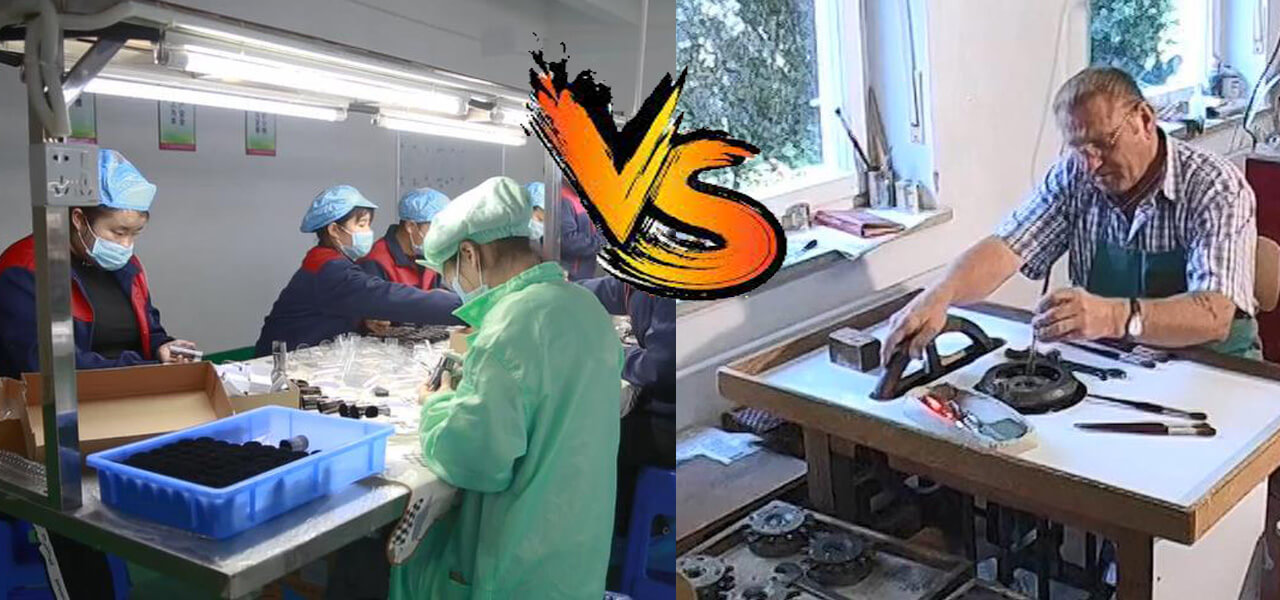 The global cosmetics market size was valued at $380.2 billion in 2019 because of COVID-19. In 2020, the global cosmetics market shrank by an estimated 8 percent compared to the previous sales year but Still reach $350 billion.
When buying cosmetics, makeup brushes are an essential tool for makeup. Because of the different functions, there are many styles of makeup brushes. To quickly and exquisitely make beautiful makeup, you must have an easy-to-use makeup brush.
Ordinary consumers can only access some cosmetic brush retailers and brands, such as supermarkets, Sephora, or BH Cosmetics stores, and so on. How are makeup brushes manufactured? Except ordinary consumers do not understand, many brands and distributors also do not necessarily know. The manufacturing process of cosmetic brushes is more complicated, and there are many steps. Here is a summary of the differences between cosmetic brush manufacturers in different countries.
There are several main production bases for cosmetic brushes globally: China, the United States, Europe (UK, Germany, Italy), South Korea, India, South Africa, etc.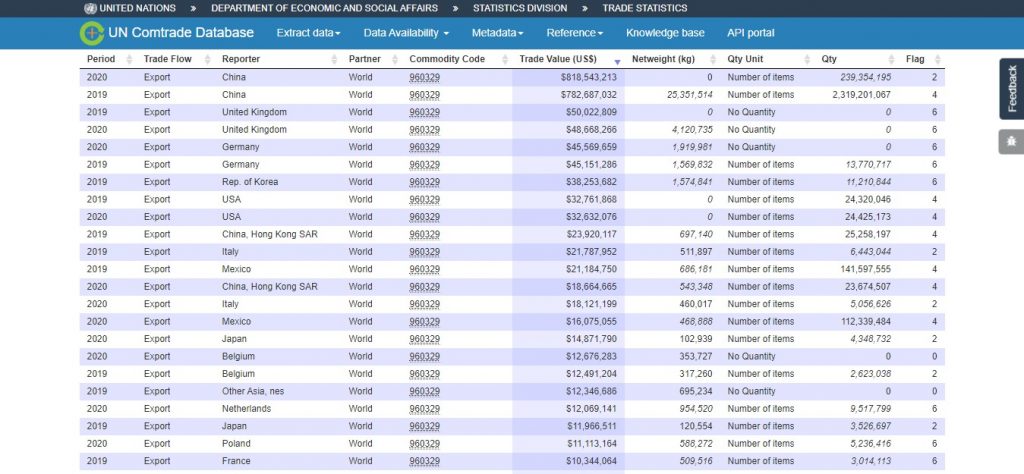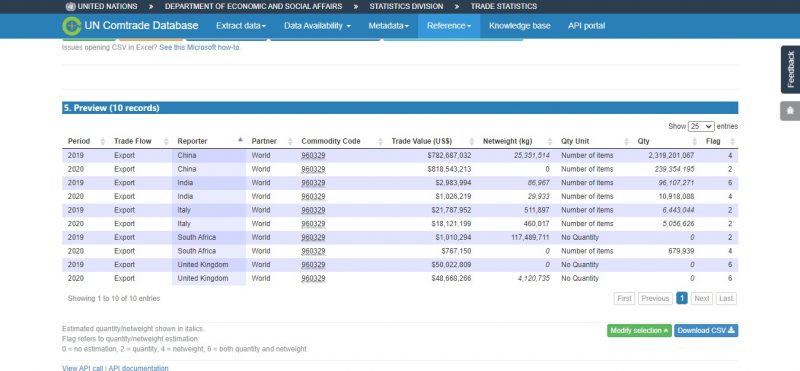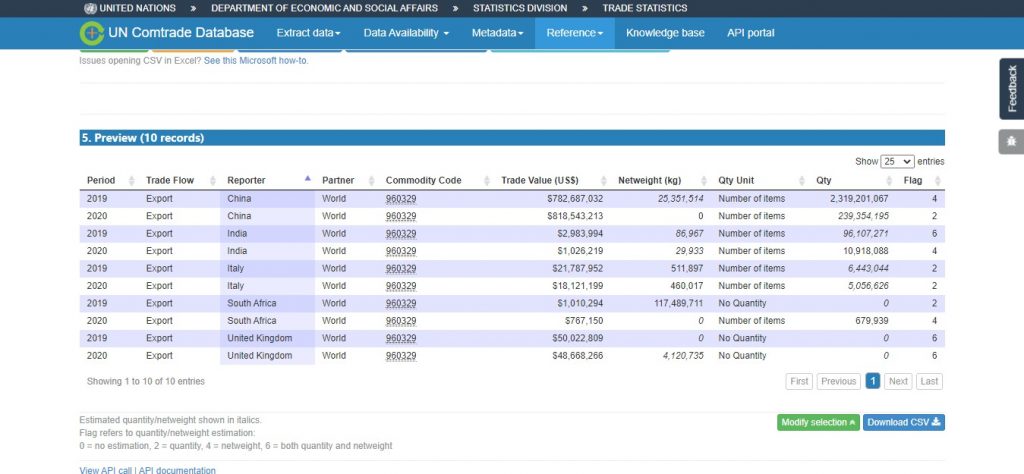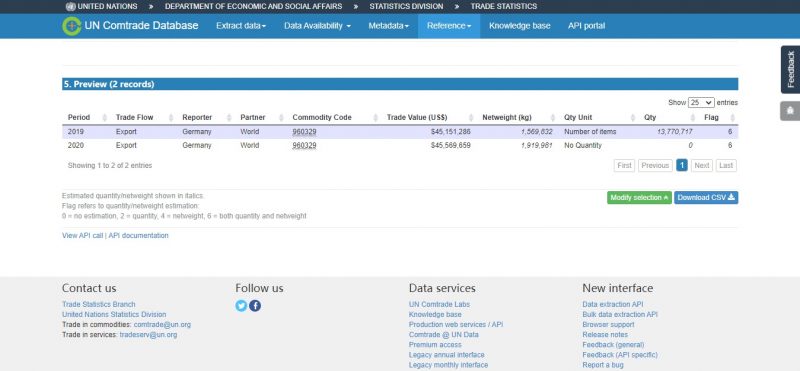 Above the data from UN Comtrade, it can be seen very clearly that China is the country that exports the most cosmetic brushes in the world, and the export value is 14 times that of the second-largest UK. In addition, China's cosmetic brush exports account for about 80-90% of the world's exports. So why are Chinese cosmetic brushes so popular in the world? What are the unique advantages of Chinese makeup brush manufacturers to attract customers?
1.Of course, the makeup brush produced in China must have first-class cost performance. The production of makeup brushes is a labor-intensive industry, and there is no high technical threshold. The wages of Chinese workers are about one-sixth of the wages of American workers. Chinese workers have primary education, and very easy to master the production process. The most important thing is that Chinese workers bear hardships and stand hard work.
2.According to the quality of export, Chinese cosmetic brush manufacturers have some differences in origin. First of all, the manufacturers in Guangdong have strong design ability because they can contact Hong Kong and Macau for the first time and can grasp the world's fashion trends for the first time. The products are novel and of good quality, suitable for European, American, and Japanese customers. A large part of the manufacturers in Hebei and Tianjin are factories in China opened by South Korean companies after the transfer of production capacity. The quality is good, and the main markets are South Korea and Japan. Yiwu is a small commodity market in China, so makeup brushes are also indispensable. Yiwu purchases customers mainly from Middle East customers. The quality requirements are not high, and the price requirements are low. Therefore, according to customer requirements, makeup brushes are of lower quality and lower prices. In addition, VT Cosmetic is located in Ningbo. Our makeup brushes are suitable for European and American markets. Middle Eastern customers can also take orders if the price is not too low. Our characteristic is that the quality of our products is good, and the price is 20%-30% cheaper than that of Guangdong. This is mainly because Our cost of living is lower than that of Guangdong, and we are close to Ningbo Port and Shanghai Port, so the export transportation cost is cheaper.
3.With a complete industrial chain, any cosmetic brush and packaging can be produced. As long as you can draw a design drawing, we can help you find matching accessories and produce and process them. This is an advantage that many places do not have. As long as the customer can figure it out, Chinese manufacturers can help you produce it.
4.Chinese makeup brush manufacturers are very good at producing personalized makeup brushes, such as handles of different colors, printing designs, hairs, and packaging. Each design can be made according to customer requirements, and the price will not increase due to these requirements. As long as there are enough quantities, Chinese suppliers will help you do whatever you want.
In the United States, there are relatively few local manufacturing plants for cosmetic brushes because of the expensive labor. For example, Anisa international inc, although they do not have a factory in the United States, they have a wholly-owned factory in Tianjin, China, so such companies should be able to control the production time and quality of the entire product. American companies should also have design capabilities and understand the local market, but the price will be higher than if you buy it directly from a Chinese factory.
In Europe, the leading cosmetic brush manufacturers are located in UK, Germany, and Italy. It must be admitted that these European manufacturers are very advantageous in terms of quality and design. Still, due to expensive labor, the price of locally produced makeup brushes is relatively high, which is suitable for some urgent orders or brands that advertise local production. Because of the high cost, it will reduce the profit of the brand. Representative companies are: Caressa Kahn Ltd, Da Vinci Brush, Pennelli Faro S.r.l
South Korea is close to China, so many cosmetic brush industries have moved to China. As mentioned above, there are many Korean-invested factories in Tianjin and Hebei. The local factories in South Korea are relatively small, with good production quality, and the design is more suitable for the Japanese market.
India and South Africa have many young laborers, especially India, and they are internationally considered the most suitable for undertaking labor-intensive industries transferred from China. However, because of the legal restrictions in India, the cosmetic brush manufacturers in India are small in scale. Due to the incomplete industrial chain, some customers design makeup brushes themselves and may not find accessories and cannot produce them. In addition, it is necessary to consider India's poor infrastructure, high transportation costs, and long transportation time.